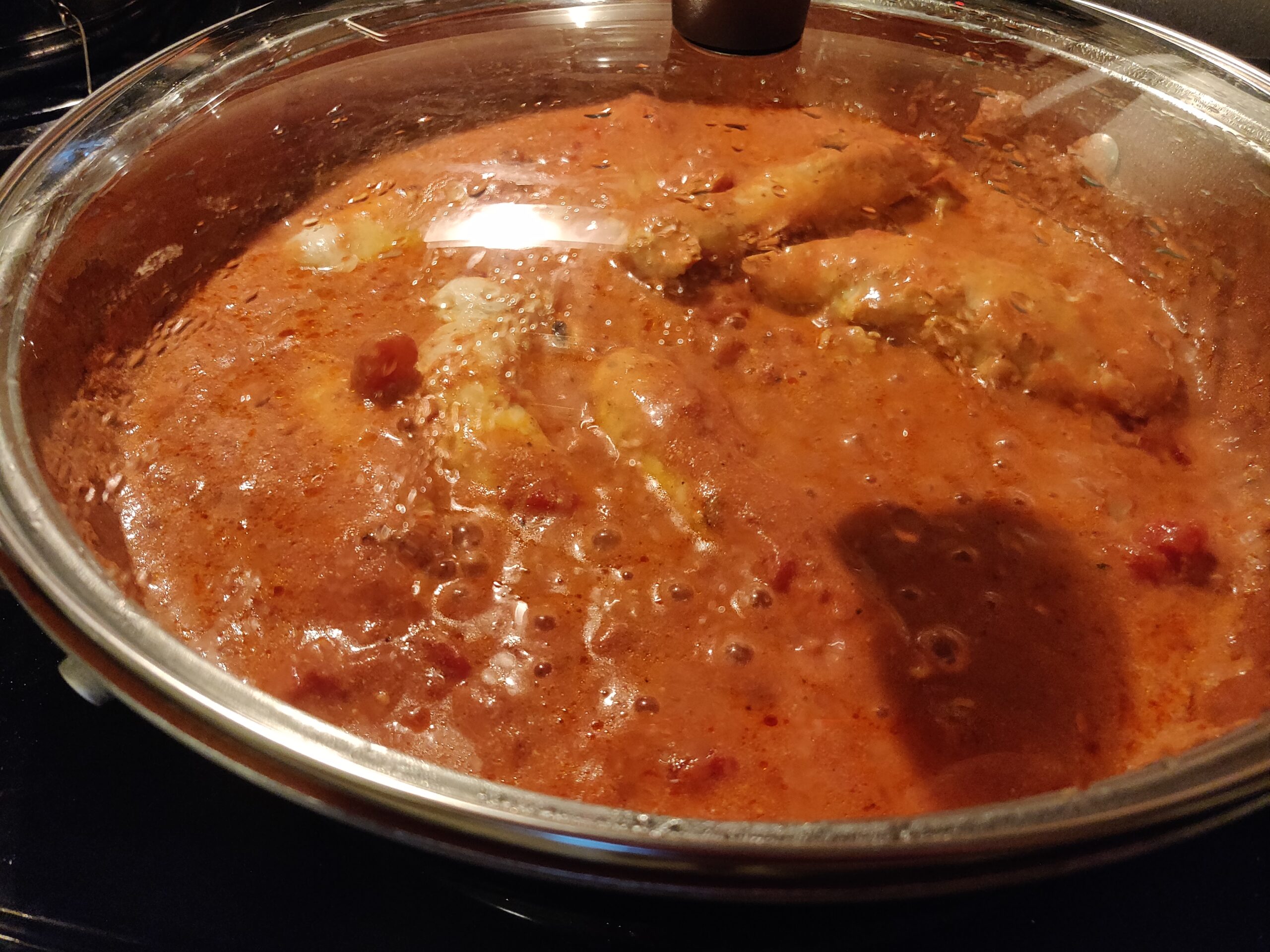 Low FODMAP gluten free curry recipe
Low FODMAP gluten free curry recipe
This recipe serves four, with no left-overs, or generously serves two, with left-overs. It is low FODMAP taking into account the research done by Monash University at the time of writing (Monash), gluten free, and lactose free.
Rather than having a separate ingredients list, I have identified each item in bold.
Feel free to experiment with the amounts of the spices in steps 5 and 6. I like to add more ginger than I describe here, but everyone's taste is different.
If using:

Meat:
Sprinkle 1lb / 500 g of chicken (or other meat) with salt and leave to one side for at least two minutes. Chicken thighs or chicken breast work well. The bones will add flavor if included but will need to be filleted before eating.
Meat alternatives:
Do not sprinkle the tofu or similar with salt.

Boil enough water to make rice, and get the brown rice going before doing the rest as it will take longer. If using chicken thighs, you can do this later if you wish – see step 18).
Heat 1 tbsp. garlic-infused olive oil in a large frying pan / skillet.
Once the oil is hot, brown the chicken on the top and bottom sides. Once browned (but not cooked through) set aside.
Reduce the heat and add another 1 tbsp. of garlic-infused olive oil to the frying pan and immediately add 1 tsp of dried ginger (use fresh ginger instead if available, and fry it a little before moving onto the next step).
Add 2 tsp of garlic-free curry powder to the oil. If it starts to splatter, remove the pan from the heat and add the other spices:

1 tsp of ground cumin
1/4 tsp of ground turmeric
1 tsp of ground coriander
1 – 2 tsp of cayenne pepper (to taste)
1 tsp of dried cardamom (if using whole cardamom, try to remove it before serving)

You can substitute more of the spices in step 6 for garlic-free curry powder if you cannot find any.
Add 1 tbsp. of water and heat the mixture together for one minute.
Add 1 large can of diced or crushed tomatoes to the pan and stir (we use Muir Glen's Organic fire-roasted tomatoes).
Stir the mixture and then add 1/3 – 2/3 of a cup of yogurt

or

1/3 – 2/3 of a cup of lactose-free milk (about 120 ml) to the mixture. You are aiming for a pale orange color so add more or less as necessary.
Add 2 tbsp. of chopped coriander leaves / cilantro if you do not find its flavor unpleasant (I do, so I skip this step).
Add 1 tsp of salt to the mixture and stir.
Heat everything briefly and give a stir. Taste the sauce to confirm that it is well seasoned and add more of any of the spices or salt as you prefer. Note: Though the chicken was not fully cooked, your pan should have heated anything left in the pan to over 165 Fahrenheit / 75 Celsius, so there is no risk of food poisoning from checking the sauce at this moment.
Add the chicken and any juices on the plate, back into the frying pan.
Add 1/2 a cup of water to the pan and stir well.
Cover and bring the mixture to a boil and stir again.
Once the mixture is boiling and well mixed, sprinkle at least 1 tsp of garam masala over the exposed parts of the chicken. If there are none, lift the chicken up a little before sprinkling.
Re-cover the frying pan and simmer without stirring for around 20 minutes. If using dark meat (e.g. thighs) you can keep cooking this on a low heat for as long as you need and the flavor will only improve. After 20 minutes, stir the mixture to make sure it doesn't dry out at the edges. If using white meat (e.g. breasts) make sure the chicken is cooked (its internal temperature is over 165 Fahrenheit / 75 Celsius) but do not over-cook.
How the gluten free, low FODMAP curry looks while cooking
Sponsor:
If you need to follow a gluten free diet, the best gluten free sourdough I have had is from Bread SRSLY. Follow the link to have it delivered to your home and support this site at the same time.
As a celiac (UK: coeliac) from birth, I had never tried sourdough, so for me it was a revelation. My non-celiac wife says that when toasted it tastes exactly like sourdough toast.
I would not recommend having it untoasted – for that there are better other breads, but for work-from-home types, and for the weekend, it's the perfect toast option. Buy it here.